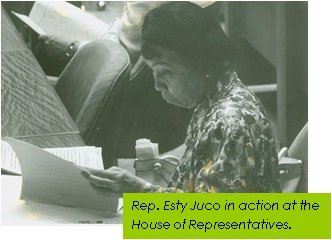 "A life well lived" best describes the life of Estelita Guinto Juco.
The devastating World War II totally changed this young and classy debutante's life. A bomb explosion caused her damage in one eye and loss of an arm.  But even then, she was unfazed and driven to succeed.
Esty remained unassuming even as a daughter of a well endowed family in the oldManilasociety.  She always marked her work with excellence.  She was an outstanding alumna of St. Paul College of Manila, graduating Summa Cum Laude with a degree in education in 1952.  She continued to serve as a Faculty atSt. Paulafter graduation, until her retirement in 1987. To this day, she is considered as one ofSt. Paul's most inspiring teachers of Public Relations and Journalism, and a highly respected journalist. She earned her graduate studies at Ateneo de Manila University in 1957 and at the De La Salle University in 1984. She was also an honorary alumna of San Beda College Doctorate on Humanities – honoris causa.
As a street parliamentarian and fighter of the Martial Law during the EDSA Revolution, she was inevitably called by the newly installed President Corazon C. Aquino, to serve as the Executive Director of the National Commission Concerning Disabled Persons (NCCDP) (now known as the National Council on Disability Affairs – NCDA).  No one has ever energized the NCCDP staff as she did, vibrantly infusing to the workforce her charm and wit which were her signature PR skills.
When President Corazon C. Aquino appointed her as the first Sectoral Representative in Congress, she made history. Her speech "One is a Lonely Number" reverberated in the halls of Congress, deeply moving all legislators, who in deference to her, hoisted up an NCCDP Calendar on each table, and gave her a standing ovation. She would proudly say that she is an adopted "sis" of Speaker Ramon Mitra's fraternity and former PCSO Chairman Manoling Morato.
As a public relations guru, she takes pride in having a public relations person behind every critical office, a formula which is proven true.  The likes of former student Ricardo Roque, now a justice law fighter on a national and full scale, and many other officials who are now part of the society's critical mass, could be traced back to this amazing PR guru.
Although her stint in NCCDP was short lived when she transferred to Congress, she requested to be given a space in the Commission, to continue close collaboration and immersion, to ensure that she could help craft laws that are database and always to protect the rights of persons with disabilities.  At this time, she as Congresswoman, Atty. Arturo Borjal in NCCDP and media and Secretary Mita Pardo de Tavera as DSWD Secretary and Chair of the Commission, became known as the "big 3" in the disability community.
Among her favorite role was as member of Ramon Magsaysay Awards Foundation, the Philippine's Nobel's Peace Prize, next to her utmost passion, which is her work as a legislator.  Before succumbing to her diabetic-related illness, she dedicated the best and last two years of her life to advocacy on the rights of women with disabilities and laws that would greatly empower and protect the rights of Filipinos with disabilities.