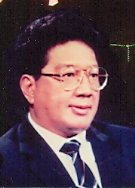 The person's willpower can help him ride through tough journeys in life. Take the case of the late Atty. Art A. Borjal. Despite the odds his disability carried, was able to master each field that he ventured into. Through all these, his bottom-line was constant – fighting for the dignity and rights of fellow Filipinos with disabilities.
Arturo Acosta Borjal was born on April 15, 1938 in La Paz, Abra. His mother carried him on her back just so he could go to school. In Ateneo de Manila University, he was the bespectacled brainy guy  with leg braces and crutches. Before he finished Law, he was the school paper's Editor-in-Chief and President of the Debating Team and the Supreme Student Council.
As a journalist, he won an array of awards from distinctive award-giving bodies. He was the Rotary Club of Manila's Newspaperman of the Year, Catholic Mass Media Awards 1986 Best Opinion Columnist, Philippine Foundation for the Rehabilitation of Disabled 1991 Special Apolinario Mabini Presidential Awardee, City Government of Manila's 1981 Outstanding Citizen of Manila and Ateneo de Manila University's 1961 Distinguished Leadership Awardee. He was the first Filipino journalist ever elected as President of the Manila Overseas Club and the National Press Club at the same time.
His daily Philippine Star Jaywalker column carried emerging issues against discrimination and violation of the sector's human rights, making it among the country's top rated and most well read columns. From 1987 to 1992, GMA7 tapped him as host of its popular Public Affairs Programs Issues and Answers and No Holds Barred, which clicked for his fearless interviews of top public and private officials.
Borjal, or AAB to his staff, served as Executive Director of the NCWDP (now known as NCDA) for more than two years, prior to his appointment by President Corazon C. Aquino as Sectoral Representative for the Disabled in the Eighth Congress. This was in 1990 when he took the place of the late Congresswoman Estelita Juco. That year, he also got elected as the President of the City College of Manila which ran quality education and scholarships for low income but deserving students.
As a legislator, he worked non-stop for high-impact laws beneficial to millions of citizens with disabilities. As one of the co-authors of Republic Act 7277, he was referred by many as the father of "Magna Carta for Disabled Persons for relentlessly pursuing it until its approval in 1992. This milestone law grants the rights and privileges of persons with disabilities, as the first attempt to mainstream the sector in major government agencies programs and services. This later led to its amendment as R.A. 9442, giving PWDs 20% discount privileges similar to that of senior citizens, and 2 provisions against public vilification and ridicule.
After his term in Congress, President Joseph Ejercito Estrada appointed him as Consultant for the Disadvantaged and concurrently as NCWDP Board member. This started his long term partnership with then Vice President Gloria Macapagal-Arroyo, Chairperson of the Council in her capacity as Secretary of the Department of Social Welfare and Development. Personally, he served as the Board's conscience bloc during meetings, and aggressively monitored member agencies commitments to implement the Magna Carta.
While serving as Sectoral Representative in 1991, he founded Abilympics Philippines to boost work excellence of PWDs and a disability-inclusive workforce. No doubt, work generation was his biggest pitch to empower the sector.
From 1991 to 2002, he led winnable teams to different host countries of International Abilympics (IAs) or Olympics of work abilities of PWD competitors. This task, he fondly turned over to respected friends he called his holy trinity before he succumbed to cancer. These are then PFRD President and now NCDA Chairperson Rosie Lovely T. Romulo, NCDA Board member Mrs. Begoña B. Ortigas, and Mrs. Mercedes A. Tuason, now Philippine Ambassador to Italy, before he succumbed to cancer. To date, Abilympics Philippines has brought home over 20 medals and special awards from its participation in Hong Kong, Australia, Czechoslovakia, and India. (See all  ABI champs featured on pages 24-58 in this magazine as proof of Pinoys work excellence here and abroad.)
He was the disability sector big champ, representing the interests of PWDs at the local and global fronts. As a Commissioner of the National Council Concerning Disabled Persons (NCCDP) now NCDA, he also assumed on the Presidency of Tahanang Walang Hagdanan (TWH), and was the Chairman of Gulong sa Pagsulong project from 1995-1997. He was a Speaker/Delegate to the 16th World Congress of Rehabilitation International in Tokyo, Japan in 1998, and a Resource Person in the Seminar-Workshop on Community-based Rehabilitation in Khon Kaen, Thailand in 1989. On that year also, he represented the country in the General Assembly of Rehabilitation International in Seoul, Korea, simultaneously as the delegate in the International Conference on Disability in the same venue.
When it was time for him to go, he did not want to be a burden to anyone and was ready to meet His Creator. He personally chose his urn, his resting place, even the songs for his memorial service. His youngest sister, Ms. Lilia dela Pena's words to Atty. Borjal's relatives, colleagues and friends were: I must confide that every time I hear these songs, my heart is filled with sadness, then awe, and then relief. Somehow I know that my brother is now resting in his Green Green Grass of Home, singing fly away, skyline pigeons fly, towards the dreams he left so very far behind. But until The Twelfth of Never, he will still be loving us.
A close friend on his Memorial Mass, sent everybody home smiling, when he challenged each one, 'to picture Art, no longer on his crutches, flying eagerly towards His Master, scot free and laughing heartily.
Sources/References:
Arturo A. Borjal. Retrieved February 11, 2010 from http://en.wikipilipinas.org/index.php?title=Arturo_Borjal
What is Abilympics Philippines?. Retrieved February 18, 2010 from http://www.mccidonline.net/abilympicsphil/Welcome.htmIn Memoriam B (2007). Retrieved February 18, 2010 from http://www.ateneo.edu/index.php?p=12-&type=2&sec=39&aid=3453
Ironman 703 Philippines Media Partners – The Philippine Star. Retrieved February 25, 2010 from http://www.ironman703phil.com/media-partners
Republic Act 7277, BIS Online Query. Retrieved February 22, 2010 from http://www.congress.gov.ph/bis/hist_show.php?save=0&journal=1&switch=0&bill_no=HB35091