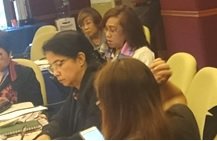 During the recent DSWD 2018 Mid-Year NMDC held in Canyon Woods Resort Club in Laurel, Batangas, the NCDA Officer-in-Charge, Ms. Carmen R. Zubiaga reported on the forthcoming nationwide observance of the 40th National Disability Prevention and Rehabilitation (NDPR) Week slated on July 17-23, 2018. President Rodrigo R. Duterte is being invited as the keynote speaker in the Opening Ceremonies of the weeklong celebration which has "Kakayahan at Kasanayan para sa Kabuhayan Tungo sa Kaunlaran" as its theme. The Technical Education and Development Authority chairs the National Working Committee of NDPR.
Ms. Zubiaga pointed out the rights of persons with disabilities to organize themselves and to choose their own leaders pursuant to the provisions of the "UN Convention on the Rights of Persons with Disabilities". She likewise reported the establishment of Disability Development Support Fund as a legislative agenda in the Philippine Development Plan.
Ms. Zubiaga also enjoined the DSWD to consider the inputs of NCDA to make the National Vocational Rehabilitation Center a resource center that will respond to the present needs of persons with disabilities; thus, there is a need to amend Republic Act No. 1179 entitled "An Act to Provide the Promotion of Vocational Rehabilitation of the Blind and Other Handicapped Persons and their Return to Civil Employment" passed on June 19, 1954. Moreover, she requested the DSWD Regional Directors to allow their municipal social welfare officers and/or focal persons for persons with disabilities to attend the NCDA's "Cluster LGU Convention on Disability Inclusive Local Governance" which aims to promote Disability Inclusive Development as a tool to good local governance. The Mindanao Cluster will be held on August 29-31, 2018 in Davao City while the Luzon and Visayas Clusters will be scheduled within the year.