As part of the National Children's Month celebration, the Council for the Welfare of Children led the Children's Art Festival which kicked off at around 2PM of October 29, 2014. SM Skydome housed hundreds of people from different NGOs and national agencies including National Youth Commission and National Commission for Culture and Arts. The National Council on Disability Affairs was represented by Ermelita Miguel, Alberto Villa and Eurmajesty Roque.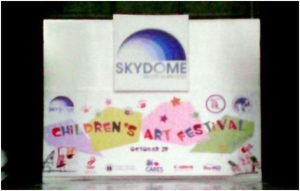 Before the actual program started, the participants were given an hour to register for the event, view the Children's Exhibit, and vote for Sipat Bata Photo Contest People's Choice Award.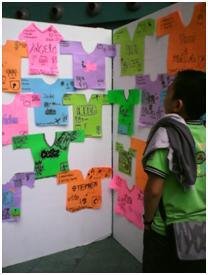 Diosa Descalozta and Joshua Estonilo, both young and smart, hosted the whole event. The ceremony was officially opened by the children from Laura Vicuna Foundation.
The chairman of NCCA, Mr. Felipe De Leon, was not around but he was still able to deliver his inspirational message thru Marlene Ruth Sanchez, Deputy Executive Director. She stressed that on 2050, the country is expected to have a population of 150 million. Thus, the children of today are truly essential in the future.
Mrs. Sanchez's speech was followed by a series of performances from several youth group, including the Laura Vicuna Foundation, Rondalla on Wheels, ERDA SABANA, IGAL-IGAL Dance, Kanlungan sa Erma, and Junior New System.
Puppet show and storytelling were also taken place. Kuya Onie and Stephen Kyle Arcean did not only entertain the audience but also shared some moral values.
Winners of Sipat Bata photo contest and DOLE-BWSC on-the-spot painting contest were awarded before the event ended.
The entire program, themed "Bata Kasali Ka, Ikaw ay Mahalaga", was indeed successful on emphasizing that the youth, with their talents and skills, have a very significant role in nation-building.
EURMAJESTY P. ROQUE
ERMELITA P. MIGUEL
ALBERTO R. VILLA, JR.