Our 6-man "Make the Right Real Team Philippines" brought home 3 awards, 2 grand champion  and a special award in e-Life, e-Tools and slogan making contests in 'Global IT Challenge for Youth with Disabilities' in Song Do University, Incheon, Korea.  Young champs are Ezekiel John Erpelo (MCCID Institute of Technology), Caroll Ann de Belen (Manila High School) and Joseph Gabriel  Vesagas (Independent Learning Center).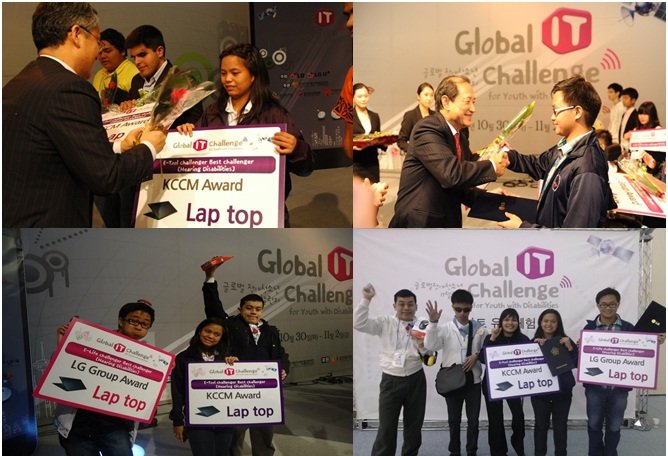 Proudly Filipinos!! Clockwise, 1) Ezekiel ''ÉJ'' John Erpelo , grand prize winner, e-Life (web browsing/research), 2) whole team from left,  Jabby Vesagas, slogan making special awardee, Gerson Peralta, Philippine National School for the Blind, team leader/coordinator NCDA staff Jennifer Garcia, Caroll Ann and EJ; 3) Winners EJ, Caroll Ann and Jabby with their laptop prizes; and  4) Caroll Ann gets grand prize for e-Tool.
The 6-man "MAKE THE RIGHT REAL- TEAM PHILIPPINES" led by NCDA staff Jennifer Garcia represented the country and bested other bets from 27 countries in this event held last October 29 to November 2, 2012.  Ms. Garcia, herself with disability was the Team Coordinator, and was one of the presentors who spoke on "Accessible ICT in the Philippines".