Returning PWD scholars led the screening of 14 hopefuls for school year 2011-2012 last June 25, 2010 hosted by NCDA. AFS Philippines Program Manager Miss Tisha Lee Eduave, in tandem with NCDA Project Evaluation Officer Fatima Garon, gave returnees Carla dela Cruz (batch 1) and Maria Adisa Nahil (batch 3) full backup as interview panelists. Qualified contenders will live with foster parents and study under the AFS exchange student program for one year in America.
In a meeting earlier, AFS Philippines officials Ms. Bonnie B. Guerra and Ms. Elizabeth Eduave, welcomed the request of PWD AFS-YES returnees to actively take part in the screening of PWD contenders. This led to a whole day workshop to brief returnees on the scoring system, as a prelude to their actual screening the next day, of 14 applicants from Metro Manila and nearby regions. As the PWD returnees' leader Marlon Celso said, "Who could best choose the PWD bets with the x-factor, but their fellow PWDs returning scholar themselves?"
The screening happened in 2 parts, 1st, the panel interview of individual applicants, followed by a cultural talent show by groups. For this, the students were divided into 2 teams. Team A composed of 9 deaf students gave a presentation depicting the Filipinos' religious' customs, Team B made up of 4 visually impaired and 1 Cerebral Palsied student, gave a song rendition.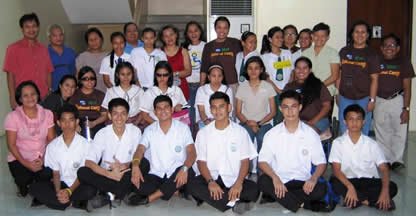 Since the opening of the program in 2004, AFS Philippines has sent 11 scholars with disabilities who left impressive marks in their various school placements in the US. For this school year 2010-2011, three scholars are set to leave the country for the school opening this fall. They are Jeremiah Bartolome, Jennessey Empang and Mark Kevin Carandang.
AFS-Philippines will release the results and notify the applicants as soon as the official results are available. For more details on the AFS-YES program, check out AFS Philippines website www.afs.ph